The Scientific Research Department of the British Museum is inviting contributions for the symposium on the recent advances in the conservation and scientific investigation of wall paintings.
The deadline to submit abstracts is the 31 January 2019.
The call for papers is now closed.
All submissions within the scope of the conference are welcome, however preference will be given to abstracts covering the following topics:
- Deterioration and preventive measures
:
Soluble salts. Effects and control
Biodeterioration
Monitoring and controlling the environment
Strategies for heritage at risk
- Innovative conservation treatments:
Laser cleaning
Nanomaterials for consolidation and protection
Gels for cleaning
Microemulsions and micellar systems
- Characterisation of condition, techniques and materials:
New methods for diagnosis and recording: DSPI, THz, NMR, RTI, BIM...
Non-invasive analysis: MSI/HSI, pXRF, FORS, portable Raman and FTIR...
Pigment and dye analysis
A secco paintings: binding media analysis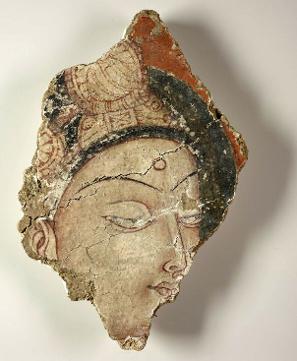 Fragment of a 6th century Chinese wall-painting showing the head of a Bodhisattva.
©Trustees of the British Museum
Submission Criteria
Abstracts (max 400 words) can be sent to wallpaintings@bm-mellon-symposia.org.
Abstracts must be submitted in English. It is recommended to include aims, methodology and a summary of the results/outcome of the treatment in the abstract. A maximum of two figures are also accepted. References and acknowledgements are not mandatory.
Please, include your preference for oral or poster presentation in your email, although a final decision will be made by the organisers depending on the number of abstracts received.