A closer look at Murals
Recent advances in the conservation and scientific investigation of Wall Paintings
A Symposium in Conservation Science held with support from the Andrew W. Mellon Foundation
30th May 2019, The British Museum, London, UK
the call for papers in closed.
The Scientific Research Department of the British Museum is inviting contributions for the 2019 one-day symposium on the recent advances in the conservation and scientific investigation of wall paintings. The symposium is free of charge and supported by the Andrew W. Mellon Foundation.
All submissions within the scope of the conference are welcome, however preference will be given to abstracts covering the following topics:
- Deterioration and preventive measures
:
Soluble salts. Effects and control
Biodeterioration
Monitoring and controlling the environment
Strategies for heritage at risk
- Innovative conservation treatments:
Laser cleaning
Nanomaterials for consolidation and protection
Gels for cleaning
Microemulsions and micellar systems
- Characterisation of condition, techniques and materials:
New methods for diagnosis and recording: DSPI, THz, NMR, RTI, BIM...
Non-invasive analysis: MSI/HSI, pXRF, FORS, portable Raman and FTIR...
Pigment and dye analysis
A secco paintings: binding media analysis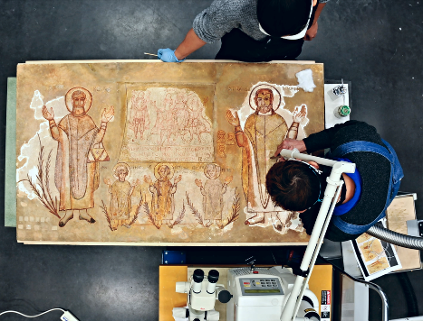 Laser cleaning of a Coptic wall painting from the BM collection. © Trustees of the British Museum.
Important dates
31st January 2019: deadline for abstracts
28th February 2019: notification of acceptance
22nd March 2019: Registration
26th April 2019: registration closing
The symposium will be conducted in English and will be free of charge, thanks to funding from the Andrew W. Mellon Foundation. Registration will be needed and details will be available in due course. Due to the limited number of oral presentations that can be fitted in one day, a poster session will be organised as well.
Guidelines for posters and oral presentations
Oral presentations will be of 15 minutes (unless differently specified) with questions at the end of the sessions. It is extremely important that speakers respect the time limit.
Poster boards have a dimension of 100 cm x 100 cm, therefore posters must be in portrait format and A1 size (84.1 x 59.4 cm).
Posters will be on display during the duration of the symposium.
Submission Criteria
Abstracts (max 400 words) can be sent to wallpaintings@bm-mellon-symposia.org. A maximum of two figures can be included in the abstract. References and acknowledgements are not mandatory. All abstract must be submitted in English.
Please, include your preference for oral or poster presentation in your email, although a final decision will be made by the organisers depending on the number of abstracts received.
The symposium is organised by Lucía Pereira Pardo and Lucia N. Melita,
Andrew W. Mellon Postdoctoral Research Fellows at the British Museum.
Department of Scientific Research,
The British Museum, Great Russell Street, London WC1B 3DG, UK