A closer look at Murals
Recent advances in the conservation and scientific investigation of Wall Paintings
A Symposium in Conservation Science held with support from the Andrew W. Mellon Foundation
30th May 2019
The British Museum, London, UK
The Department of Scientific Research of the British Museum will host a one-day symposium, featuring innovative approaches to the conservation and scientific investigation of wall paintings. The aim of the symposium is to become a meeting place where conservators and scientists working on wall paintings can exchange their knowledge and experience, facilitating new collaborations. Scientists will become familiar with the existing conservation challenges and conservators will update their knowledge about the most recent scientific developments.
The symposium will be conducted in English and, thanks to funding from the Andrew W. Mellon Foundation, it will be free of charge. However, booking a place in the symposium will be necessary. More details can be found in the Registration section.
Important dates
31st January 2019: deadline for abstracts (Call for Papers)
28th February 2019: notification of acceptance
22nd March 2019: registration opening (Registration)
26th April 2019: registration closing
30th May 2019: Symposium (Programme)
Guidelines for oral presentations and
posters
Oral presentations will be of 15 minutes (unless differently specified) with questions at the end of the sessions. It is extremely important that speakers respect the time limit.
Poster boards have a dimension of 100 cm x 100 cm, therefore posters must be in portrait format and A1 size (84.1 x 59.4 cm).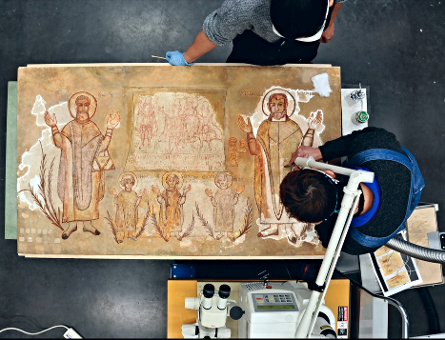 The symposium is organised by Dr Lucia Pereira Pardo and Dr Lucia N. Melita, Andrew W. Mellon Postdoctoral Research Fellows at the British Museum.
For further information please contact: wallpaintings@bm-mellon-symposia.org
Department of Scientific Research
The British Museum, Great Russell Street, London WC1B 3DG, UK
Organised by The British Museum

Supported by the Andrew W Mellon Foundation